The old illustration on the left, of the same property as in the previous example, was rendered on an oval surface that was warped in a convex shape. The distortion caused by this warping necessitated subtly transforming the edges of the image to achieve a more natural look for printing on a flat surface. We also eliminated surface blemishes and corrected the colors.
This striking ink illustration dated back to the '70s and had faded badly. With its original tones and colors restored, the battle comes to life. A print of our restoration of this image currently resides at Marine Corps Base at Camp Pendleton.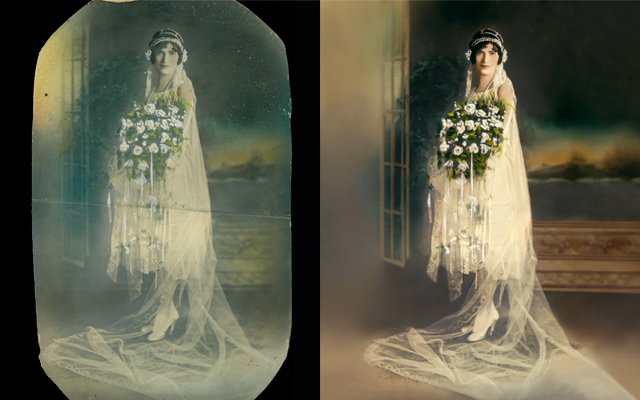 We restored this early 20th century portrait to its original grandeur, extending the edges for a more complete piece. The enhanced contrast and saturated hues highlight the portrait's luminescent quality.
Even if you don't want your artwork restored or enhanced, or if it doesn't need any work, we'll be glad to print copies for you on high quality photopaper. Canvas prints are also available.